In 2012, there were 350 companies selling marketing software. Today, there are over 7,000.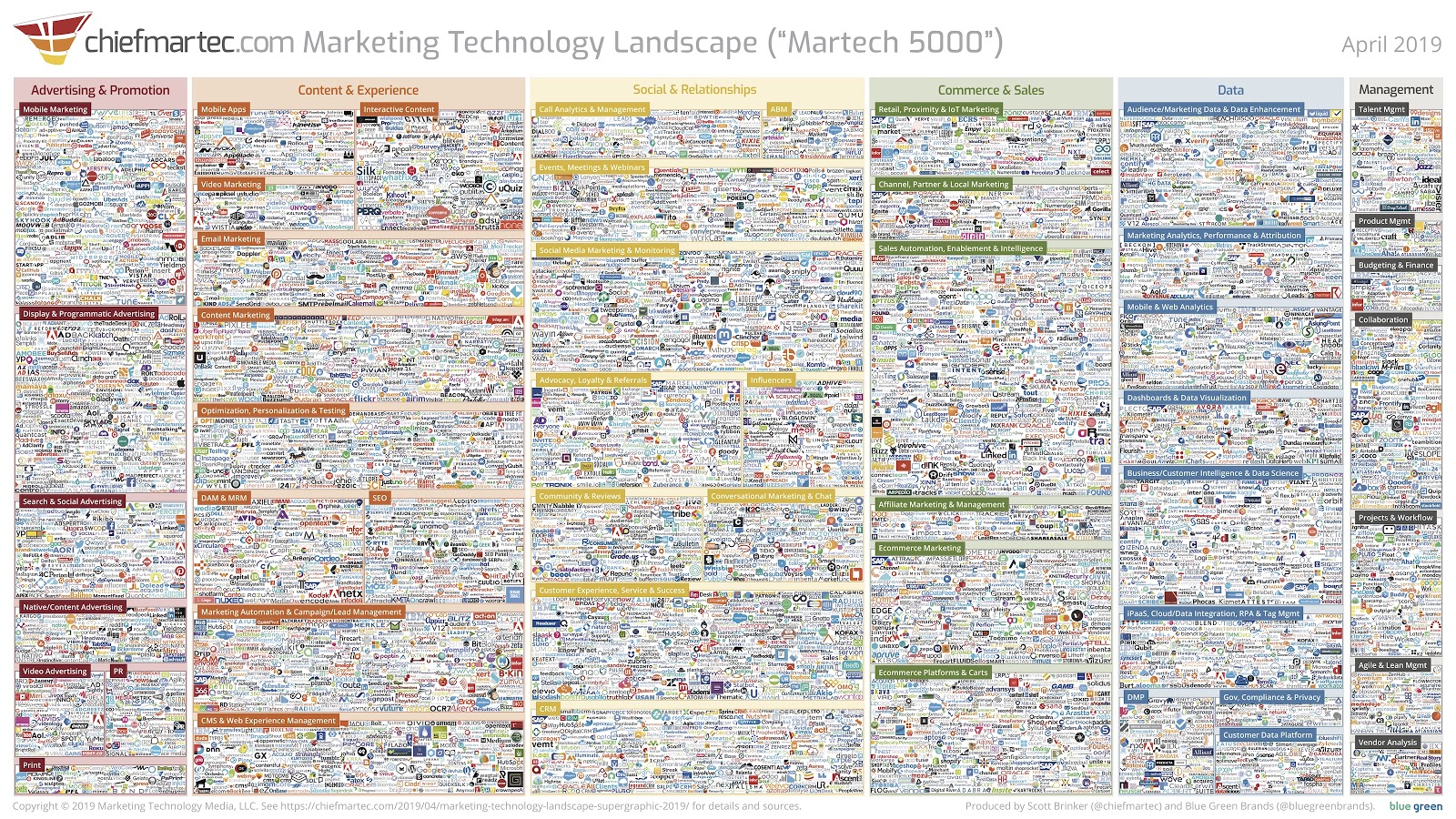 When your options for choosing a marketing tool look like this (or a section of this) chart, how do you pick the right ones for your Martech stack?
As you move towards a data-driven approach to fuel your marketing and product growth, using siloed tools for running campaigns and obtaining data can weigh you down. Not only does it slow down turnaround times and impact productivity, but you might also be forced to work with inconsistent data since the tools don't speak the same language.
Solving this requires a single source of truth – central view of customers and all data pertaining to them.
We at MoEngage believe that insights into your users – both qualitative and quantitative – are key to engaging them better. With that mind, we rolled out our Analytics suite to provide the insights necessary to continually experiment, learn, and grow.
Our clients who tried it out, including Samsung, Tokopedia, and OYO Rooms loved that they could now get insights into their user behavior and act on the insights from one platform.
But they were still dependent on other analytics tools to understand how the traffic sources impacted what they did on the app/website.
Introducing Source and Session Analysis
While our customers were happy that they could now execute faster, they were still turning to Google Analytics for tracking where users were coming from and what they were doing once they got there.
To address this challenge, we launched Source and Session Analysis as a part of MoEngage Analytics.
If you are a growth marketer or a product manager who uses MoEngage Analytics for analyzing user behavior, you can now do a whole lot more. On a broad level, you can:
Find out which sources bring in the most (and the right kind of) traffic, and hence drive revenue.
Understand what users do once they get to the app/website and how long they stay for.
On a deeper level, a combination of these features can help you:
Compare all your revenue sources from one dashboard – Spend less time switching between MoEngage and Google Analytics for campaign and behavioral insights.
Get session information for individual users and user groups – Get specific insights like sessions per user, bounce rate, session duration, and conversion by source.
Optimize your spend and maximize conversion and retention – Find out what's working and double down on it. Find out what's not, and fix it.
If you're still reading, I'm sure you're wondering how you can get started. Well, that's simple.
If you're already a MoEngage Analytics customer, all you need to do is reach out to your account manager to have 'Source and Session Analysis' enabled.
If you're not, we'd love to know and address what's stopping you. Write to us at

[email protected]

. Help us with some qualitative insights, won't you?
What else can you gain from MoEngage Analytics?
The MoEngage Analytics suite comes with all the features that you'd need to analyze your user behavior. Once you run campaigns to engage them, you can get back to it to understand the impact.
Here's how one of our EdTech clients, OnlineTyari, leveraged the Marketing Automation and Analytics combination to improve their conversion rate by 4X.
Say goodbye to perpetually switching analytics tools with MoEngage: REQUEST DEMO



Here's What You Can Read Next: