The State of Omnichannel Ecommerce in 2023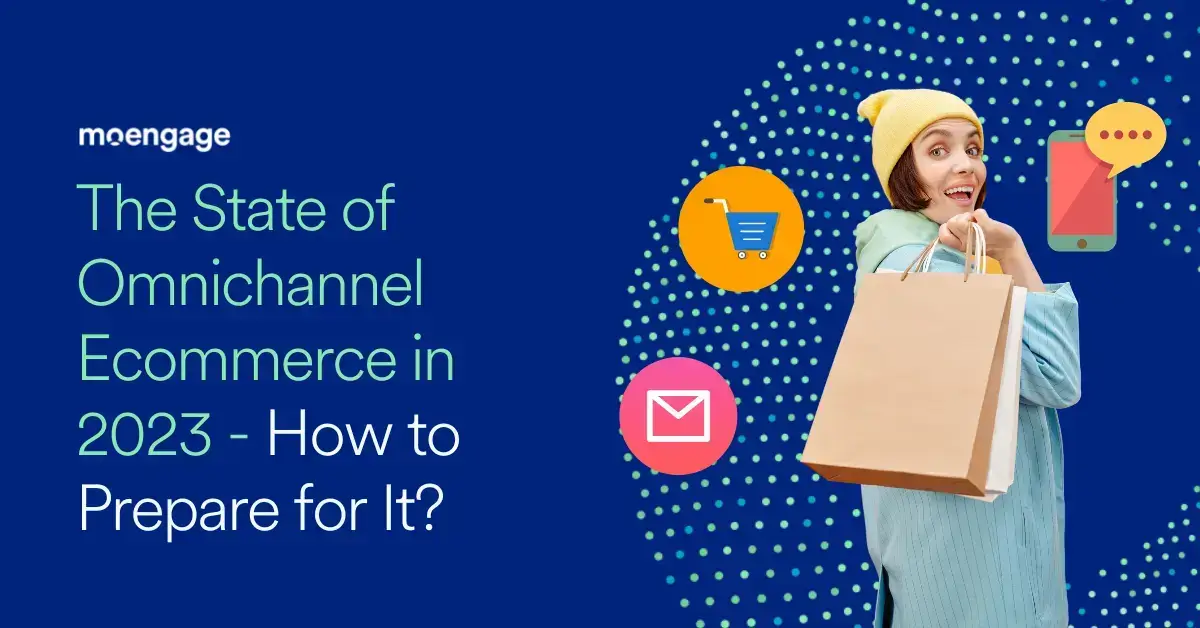 According to one study conducted recently, retailers with a robust omnichannel approach retain over 89% of their customers compared to those that are weak in this area. Further, omnichannel customer engagement companies will see a 9.5% rise in annual revenue, as opposed to 3.4% for companies without such a strategy.
New data shows that 43% of online shoppers have reported making purchases while in bed, 23% at the office, and 20% from the bathroom or in the car. These shifts in behavior mean that the outlook for 2020 e-commerce retail sales increased from 20% growth to 30%.
In 2019 itself, marketers discovered that using three or more channels earned an 18.96% engagement rate. In contrast, their single-channel counterparts got just 5.4%. As consumers become more comfortable with an omnichannel experience, this trend is only set to grow.
Clearly, for e-commerce companies, having a strong omnichannel approach that seamlessly unites separate channels is a great advantage. How can retail marketers reap the benefits of this in 2023? That is what this guide will explain. You'll learn about:
The Features and Benefits
The Challenges Ahead
Some Examples to Learn From
2023 Trends to Take Advantage Of
With a fully integrated approach that unites mobile browsing, e-commerce marketplaces, in-person storefronts, and social media, you can piggyback over the competition.
The Features and Benefits
Let's start with a quick overview of the state of omnichannel retail today. This also enables an understanding of its main features as well as advantages for e-commerce.
Cohesion
With the maturing of omnichannel strategies, consumers are increasingly receiving unified and cohesive information about retail brands. At every touchpoint, the message and the sales pitch remain the same. This brings about increasing familiarity. It also leads to easier ways to stay in touch and promote sales.
Understanding
Data analysis is a key feature of an omnichannel approach. This data means that marketers can understand consumer behavior like never before. It leads to insights about the best ways to reach them and actionable messages. Understanding which stage consumers are in means strategies to move them up the funnel. Read more about key lessons from user behavioral change driving the modern purchase path.
Personalization
Data also allows for highly personalized and relevant messaging. Online ads, push notifications, emails, and more can be tailored to individual needs, from recommendations to promotions. Studies show that 80% of shoppers are more likely to buy from a company that offers personalized experiences.
Revenue and Loyalty Boost
The natural result of all of the above is that the online retailer increases not just sales but also long-term-consumer loyalty. Surveys show that businesses that employ omnichannel strategies achieve 91% greater year-over-year customer retention rates compared to the rest. This isn't only restricted to online behavior. 71% of in-store shoppers who use smartphones for research say their device has become more important to their in-store experience.
An October 2019 survey of e-commerce decision-makers all over the world revealed that 48 percent of them viewed an omnichannel strategy as being very important for their company in 2020.
After that, a Price Waterhouse report showed that the number of retailers investing in the omnichannel experience has jumped from 20% to more than 80% since 2020. Here's are some omnichannel marketing workflows that you can use right away to grow your conversions.
The Challenges Ahead
A landmark new study shows that in 2021, shoppers will prioritize convenience and discovery. They rely on retailer sites and apps more than any other touchpoint in the days and weeks leading up to a purchase.
This reinforces the importance of such touchpoints as critical first stops along the shopping journey.
With this in mind, what are some challenges that will be faced by e-commerce merchants who go in for an omnichannel approach? What are the things to watch out for and be prepared for?
Balancing brick-and-mortar with online shopping
Seamlessness is one of the key principles of an omnichannel strategy. Thus, retailers should consider strategies such as buy online, pick-up in-store (BOPIS), and curbside pick-ups as a way to draw consumers to physical stores.
Retail sales and online sales should not be seen as being in competition but as a cooperative effort. A unified experience, as well as staff trained and equipped with online devices for information and payment, goes a long way.
After all, a Harvard Business Review survey of 46,000 shoppers found that only 7% shopped exclusively online. 20% were store-only shoppers. A massive 73% moved across multiple channels.

In 2023, omnichannel logistics that bring together inventory, distribution, and transportation will assume even greater importance. This is essential to quickly meet changing consumer needs across channels.
In addition, retailers will have to ensure that they have the latest automated technology platforms to drive loyalty and acquisition across multiple touchpoints. Such technology also enables better personalization as well as quick and seamless responses to user actions.
Better data integration
As more and more channels are used in a variety of innovative ways for a seamless experience, more and more data can be gathered.
The challenge is for such data to not be broken up by category or use case but to integrate it for better analytics. In particular, data across sales channels, CRM, social media, and other offline and online activities should be looked at as a whole.
Synchronizing all of this in a seamless way is a key step in tweaking and getting the best out of omnichannel consumer experiences. For many, the way ahead in 2023 will be to rejig data dashboards, create unified data architecture, and transform the data streams in a manner that provides overall and actionable insights.
Take a look at 7 Major Challenges in Omnichannel Marketing and How to Fix Them
Some Examples to Learn From
The way ahead for omnichannel retailers in 2023 can become even more clear by applying recent successful lessons from other retail and e-commerce enterprises. Here are three of them.
1. Walgreens
In 2020, pharma retail giant Walgreens transformed its marketing strategy to focus on its customers, rather than specific channels, to grow its business.
The head of their omnichannel planning realized that "customers are looking for the freedom to shop when and how they want." Whether it be in-store, or online, collapsing the frontiers of physical and digital.
They emphasized online experiences, created local campaigns that were unified at a messaging level, and promoted reward points. They also holistically analyzed data to understand shifting patterns of behavior. They then shifted to data-driven mobile solutions for faster and more accurate merchandise tracking.
All in all, this led to more personalization, more customer convenience, and far greater loyalty.
2. Sivvi
Sivvi, a leading online retailer of clothing, footwear, and accessories based in Dubai, wanted to increase conversions as well as decrease rates of cart abandonment.
They put into place an omnichannel approach that involved emails and push notifications, with smart triggers and methods to boost re-engagement.
The results: 10% of users returned to complete a purchase and 16% clicked on the Smart-trigger push campaign to also complete purchases.
3. Country Delight
Country Delight, a farm-fresh milk delivering app, wanted to reduce the funnel level churn during the pandemic lockdown period.
During surge traffic time, the team wanted to engage users and drive them to complete their subscription journey. They used a customer engagement platform to understand user behavior by analyzing data. They also ran cross-channel campaigns that improved engagement and conversions during the period.
This led to a 50% retention of existing consumers and a 20% improvement in conversion rate.
2023 Trends to Take Advantage Of
The increasing shift to e-commerce and greater use of technology because of pandemic restrictions means that certain omnichannel trends are beginning to take shape for the rest of 2023 and beyond.
1. Social media shopping
Social media has been a powerful brand tool for some years now. However, 2023 data so far shows that it is poised to play a greater role apart from reviews, information, and engagement.
The next step is to integrate a shopping function directly into social media platforms. Facebook's Shops feature and Instagram's Shopping feature are already in place. According to a new whitepaper, over 60% of brands have started using some kind of social e-commerce functionality.
2. Digital payments
For retailers, digital payments are a building block in creating an even more cohesive consumer journey. As Talbott Roche, CEO, and president of Blackhawk Network, says, such payments "can be the conduit to deepen connections between brands and consumers, solving their problems, meeting their demands and creating better, more meaningful shopping and payment experiences."
Contactless payments are also becoming increasingly accepted. According to one report, more than 61 billion people worldwide will use digital payments by 2023.
3. Shoppable videos
Video content has taken off in the last few years, but the new aspect for this year seems to be shoppable videos. According to one report, this is the future of commerce.
It is a unique combination of shopping, entertainment, and interactivity. People will spend 100 minutes every day watching online videos in 2021, and 48% of consumers want videos to reflect what they are interested in.
Wrap- Up
This year promises to be one of change, especially for retailers. With the right omnichannel strategies in place, they can ride the waves and come out on top.
Here's What You Can Read Next
Table of contents